After a deep dive into their ingredients and a thorough test of their taste, we determined that San Pellegrino is the best sparkling water over Perrier. Read our full review to find out why San Pellegrino will quench your thirst!
When water starts to get boring to drink, try spicing it up with sparkling water! Sparkling water has been around for quite some time and is a great hydration alternative to regular water. Not only does sparkling water add some pizzazz to your water, it also has some added health benefits. Sparkling water may help with digestion, ease upset stomachs, and help curb your hunger.
So, with these benefits, it's easy to see why so many people choose to drink sparkling water, but who has the best sparkling water? That's what we decided to find out, so we put Perrier up against San Pellegrino to determine the best sparkling water brand for you to buy.

Preview
Our Pick
Title
San Pellegrino Sparkling Water
Perrier Sparkling Natural Mineral Water
Our Pick
Preview
Title
San Pellegrino Sparkling Water
Preview
Title
Perrier Sparkling Natural Mineral Water
Table of Contents
Why We Chose Perrier and San Pellegrino
Most everyone has heard of Perrier and San Pellegrino (also known as S. Pellegrino), and they seem to be the clear front runners of sparkling water. They have raving reviews, and each brand has cult like followers who swear by them over any other brand. This matchup was a no brainer for us, as there really isn't any sparkling water brand more prevalent and popular than these two. For this review, we decided to focus on the tried and true sparkling mineral water from each brand, rather than get into all the different flavors that each brand offers.
Pricing
Pricing is difficult to compare between Perrier and San Pellegrino because their prices vary drastically depending on if you are buying glass, plastic, or aluminum bottles/cans. Overall, Perrier is slightly cheaper if you are planning to buy in bulk plastic bottles, whereas San Pellegrino is cheaper if you buy a lesser quantity of glass bottles. Since pricing is so close here, and can vary so much, we don't feel that there is a clear cut winner.
WINNER: Tie
Ingredients/Source
The main difference between these two brands is the source of their water. Perrier is bottled at Vergèze, Gard, France, while San Pellegrino is bottled at San Pellegrino Terme, Bergamo, Italy. The ingredients list of each brand is identical:
Carbonated Mineral Water
4% Calcium
Doing a little bit of research, we can also see that Perrier has a slightly lower pH level (more acidic) than San Pellegrino – 5.46 for Perrier vs 5.6 for San Pellegrino. This difference in pH level is negligible, although the more acidic Perrier would technically be worse for your teeth than San Pellegrino. Due to that last fact, San Pellegrino gets the slim margin of victory here.
WINNER: San Pellegrino
Taste
The most important aspect of this test is the taste of each sparkling water brand. No doubt, you want to buy the sparkling water that tastes the best so we set up a blind taste test using 21 participants. We had each participant try a small glass of Perrier and San Pellegrino (but did not tell them which was which), then asked them which they preferred and why. We did this twice with each participant, and used a new batch of Perrier and San Pellegrino sparkling water to account for any differences between the batches. The results were very decisive:
Participants' Taste Preference
Perrier – 14%
San Pellegrino – 69%
No Preference – 7%
Clearly, our test subjects preferred San Pellegrino over Perrier. Most of the feedback we received claimed that San Pellegrino had more carbonation and just had more fizz than Perrier. The participants who liked Perrier better claimed that it was easier to drink and went down smoother (probably due to less carbonation).
The results of this test surprised us. Perrier is the more acidic sparkling water, and it specifically claims to have more carbonation than its competitors. During our taste test, it was clear that San Pellegrino had more carbonation and was the preferred sparkling water. We chalked it up to the fact that if people are wanting to have sparkling water, they prefer the higher carbonation levels (otherwise they'd stick to regular water). Our winner was clear here…
WINNER: San Pellegrino
Best Sparkling Water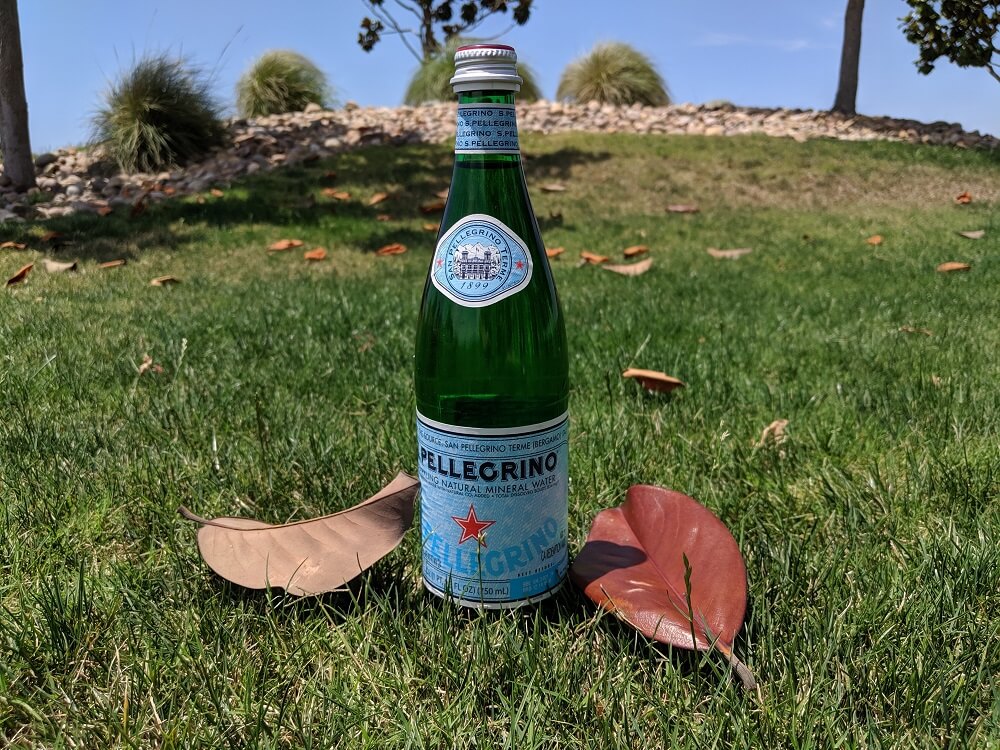 It's pretty safe to say that San Pellegrino is the overall better sparkling water. It had more carbonation than Perrier while having a lower pH level, which to us was a huge differentiator. Our blind taste test also revealed a strong preference for San Pellegrino over Perrier. With little to no price difference, it is a no brainer for us to recommend San Pellegrino as the best sparkling water.
WINNER: San Pellegrino
San Pellegrino Sparkling Water
Twelve 33.8 fluid ounce or1 liter BPA free plastic bottles
Sparkling water imported from Italy
Crisp and clean taste pairs well with any meal
Sparkling Water Flavors
If the unflavored sparkling water doesn't tickle your fancy, then try flavored sparkling water. Both Perrier and San Pellegrino have flavored sparkling options. Perrier has 7 different flavors while San Pellegrino has 8.
Perrier Sparkling Water Flavors:
Pink Grapefruit
Strawberry
Lime
Peach
Watermelon
L'Orange (Lemon and Orange)
Lemon
San Pellegrino Sparkling Water Flavors:
Aranciata (Orange)
Aranciata Rossa (Blood Orange)
Clementina (Clementine)
Ficodindia E Arancia (Prickly Pear and Orange)
Limonata (Lemon)
Limone E Menta (Lemon and Mint)
Melograno E Arancia (Pomegranate and Orange)
Pompelmo (Grapefruit)
Perrier has a wider variety of flavors, as four of San Pellegrino's flavors are some sort of variant of Orange flavor. Also, a huge difference in their flavored sparkling water is that Perrier has little to no sugar, and is a true flavored sparkling water, while San Pellegrino is actually more of a sparkling fruit juice, as it has 30+ grams of sugar per serving.
In terms of overall variety and the health of the ingredients, Perrier wins since it is a true flavored sparkling water with little to no sugar. So if you are in the mood for some healthy flavored drinks, we recommend Perrier over San Pellegrino.
Final Thoughts
It all comes down to your personal preference. If you prefer a smoother less carbonated sparkling water, then Perrier is your drink. If you like a little more carbonation, then San Pellegrino is your choice. And if you are craving some flavor, Perrier is definitely the more healthy option, while San Pellegrino really shouldn't even be called a flavored sparkling water as it is a sparkling fruit juice. Either way, both of these brands have created a great sparkling water product that we recommend!
San Pellegrino Sparkling Water
Twelve 33.8 fluid ounce or1 liter BPA free plastic bottles
Sparkling water imported from Italy
Crisp and clean taste pairs well with any meal