In this Goliath vs Goliath toilet paper showdown, we tested Charmin against Cottonelle to determine the best overall toilet paper brand. After countless surveys and tests, Charmin was our winner for the best toilet paper. Read on to find out why!
Sliced bread, democracy, microwaves, and toilet paper: just some of the marvelous and mind-blowing achievements of modern man. Let's face it, life wouldn't be the same without these inventions. As far as something you use every day, you may be a keto-eating instapot devotee… but you still need toilet paper.
Toilet paper is no longer leaves or newspaper. Toilet paper is a multi-million dollar industry in the US. The top brands are owned by some of the largest toiletry and lifestyle companies in the world, like Proctor & Gamble or The Kimberly-Clark Corporation. Toilet paper itself has evolved from a utilitarian item into a lifestyle item that claims luxury, life-enhancement, and general bliss. With digestion itself being a key issue for marketers, it's no wonder that toilet paper sales never dip. This highly competitive market requires companies to amplify tiny differentiators in the hopes of catching our imaginations and buy in.
For however many times you need it, high-quality toilet paper can make or break the efficiency and effectiveness of your bathroom breaks. If you've ever been stuck needing a spare square, you know what we mean. However, a simple trip to pick up essentials can leave you cowering under the towers of different displays. Each brand claims something unique:
"We are recycled from plastic bottles!"
"We only use cruelty-free, non-toxic cotton plucked by rescued iguanas in the Amazon!"
"We cost $0.12 for a lifetime supply!"
"Guaranteed to spark joy every time you need to go!"
Marketing can be mesmerizing but also a little overwhelming. Every brand is going to claim to be the best. So, which type of toilet paper do you choose?
Table of Contents
Why We Chose Charmin and Cottonelle
Charmin and Cottonelle are two of the best selling toilet paper brands in the US, each owned by parent companies who create brands that most Americans use. They are two of the highest rated and most well known toilet paper brands by consumers across all markets. Consumer Reports ranks multiple variants of Charmin and Cottonelle toilet paper in their top 10 list of toilet paper. Ratings on Amazon, Walmart, and Target all reflect the unrivaled popularity of these two brands, as they are the highest rated choices on all three websites.
To help you decide between Charmin and Cottonelle, we put each toilet paper brand through a gauntlet of tests.
How We Tested
Some kinds of toilet paper are simply worth buying more than others. Our tests use real-life experiences to measure the relative superiority of these two brands. A few factors measure whether a toilet paper is the best. We ran tests to compare and contrast three subsets of toilet paper between Charmin and Cottonelle brands based on the following criteria:
Absorbency: What quantity of paper would be needed to do the job?
Strength: How resilient is the paper to strain and movement?
Comfort: How soft and comfortable is the paper?
We did the legwork. See the results below for apples to apples comparisons of each brand's subset and who came out on top.
Best Soft Toilet Paper
Charmin Ultra Soft vs Cottonelle Ultra ComfortCare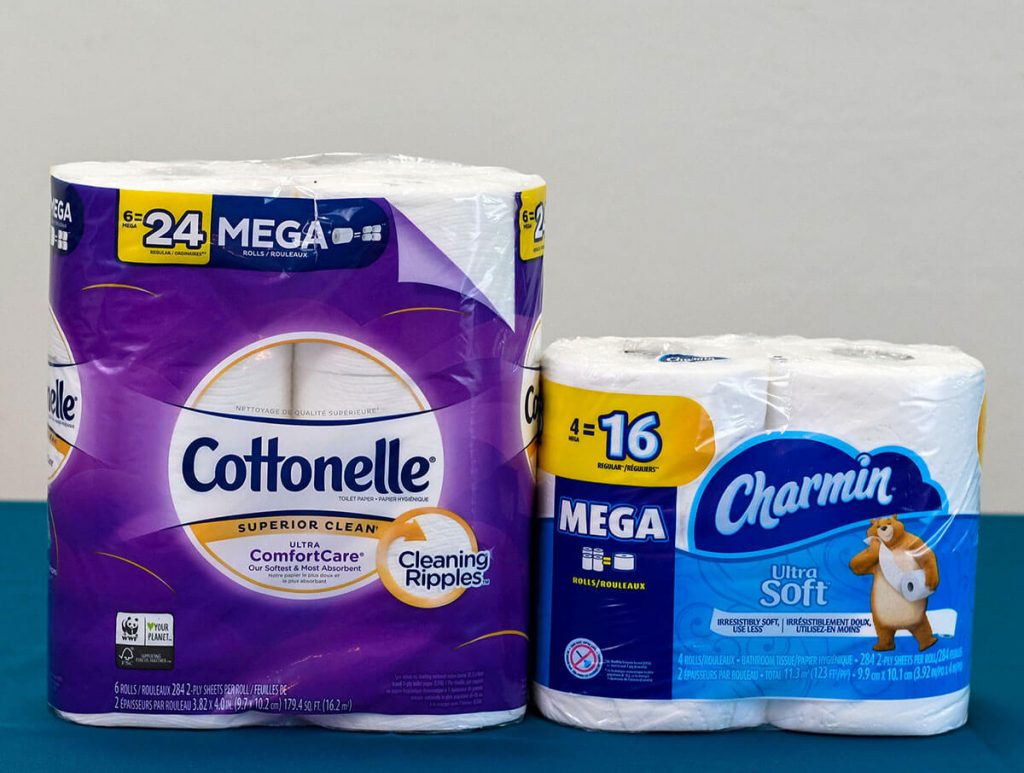 It stands to reason that all paper being applied to this area of the human anatomy should be soft, but Charmin Ultra Soft and Cottonelle Ultra ComfortCare make claims that their comfort is above and beyond.
Charmin claims that Ultra Soft is their softest product ever. It is two-ply and comes in regular and mega rolls. Cottonelle Ultra ComfortCare is billed as luxurious and three times softer than the leading brand (which is undefined in their advertising). These soft brands are probably most appealing to people with sensitive skin.
Absorbency
5 ML of dispensed liquid were applied to a single square of each product. This test was to assess how much liquid absorbed into the paper itself by visually assessing the spread of the drip and physically measuring unabsorbed liquid. Visually, liquid spread further faster on the Cottonelle square of toilet paper. However, when lifted, the Cottonelle left behind at least 1ML of unabsorbed liquid. By contrast, liquid on the Charmin Ultra Soft dispersed more slowly but, when lifted, the square left behind an almost imperceptible amount of excess liquid.
Absorbency Winner: Charmin Ultra Soft
Strength
We made slings out of unrolled lengths of paper and added weights into the slings to see which could hold more weight without tearing. Cottonelle Ultra ComfortCare was far superior and could carry several more weights than Charmin Ultra Soft.
Strength Winner: Cottonelle Ultra Comfort Care
Comfort
We surveyed friends and neighbors for comparisons. About 80% of participants agreed that Charmin Ultra Soft was much softer than Cottonelle Ultra Comfort Care.
Comfort Winner: Charmin Ultra Soft
Charmin Ultra Soft beat Cottonelle in two of the three tests here. Obviously the comfort test is the most important, and Charmin won that test by a landslide. It is clear to us that Charmin Ultra Soft is the toilet paper to buy if you have sensitive skin and are looking for a soft, absorbent toilet paper.
Best Soft Toilet Paper: Charmin Ultra Soft
Charmin Ultra Soft Toilet Paper
Pack contains 24 Rolls (338 sheets per roll) of Charmin Ultra Soft Family Mega Roll toilet paper
1 Charmin Family Mega Roll = 5+ Regular Rolls based on number of sheets in Charmin Regular Roll bath tissue
Charmin's softest 2-ply toilet paper ever made
Best Strong Toilet Paper
Charmin Ultra Strong vs Cottonelle Ultra CleanCare
Durability is a key element for toilet paper, especially since this can determine how many squares you need to be clean. We compared Charmin Ultra Strong and Cottonelle Ultra CleanCare, the strongest products each brand has to offer. Charmin compares their Ultra Strong product to a washcloth in terms of durability while Cottonelle claims that Ultra CleanCare is a balance of strength and softness.
Strength
Testing this product for strength was most important, since that is their primary claim. We performed several tests:
We dropped an entire roll of each kind of paper from a balcony, roll first, holding the other end as it unraveled: which tore first? Cottonelle Ultra CleanCare lasted several feet longer than Charmin Ultra Strong.
Tug of war: we gave one end of each roll to each person, so they had Cottonelle Ultra CleanCare in one hand, and Charmin Ultra Strong in the other. Cottonelle Ultra CleanCare was significantly harder to rip.
We used the slingshot method from above, adding weight to each loop of toilet paper to see which could hold the most weight without breaking. Cottonelle Ultra CleanCare could carry almost twice as many weights as Charmin Ultra Strong.
Cottonelle Ultra CleanCare won this section by a landslide. If you are looking for strong and durable toilet paper, look no further than Cottonelle Ultra CleanCare.
Best Strong Toilet Paper: Cottonelle Ultra CleanCare
Best Gentle/Lotion Toilet Paper
Charmin Ultra Gentle vs Cottonelle Ultra GentleCare
For the gentlest of touches, Charmin Ultra Gentle and Cottonelle Ultra GentleCare are both marketed as specialty papers that soothe irritated skin with a hint of lotion. In addition to lotion, Cottonelle Ultra GentleCare also has aloe. The benefits of these toilet papers go beyond just softness, they keep your skin from drying and are advertised as soothing any irritated skin.
Based on its claims, we conducted consumer testing for the Gentle toilet paper products to measure comfort.
Which one feels softer to the touch? 8/10 participants said that Charmin Ultra Gentle felt softer.
Which one feels softer on the bum? 6/10 participants said that Charmin Ultra Gentle felt softer.
By a significant margin, the overall winner for softness and gentleness is Charmin Ultra Gentle. If you are looking for a gentle lotion soothing toilet paper, Charmin Ultra Gentle is the toilet paper for you!
Best Gentle/Lotion Toilet Paper: Charmin Ultra Gentle
Sale
Charmin Ultra Gentle Toilet Paper
Customer receives 18 Rolls (286 sheets per roll) of Charmin Ultra Gentle Toilet Paper
1 Charmin Mega Roll = 4 Regular Rolls based on number of sheets in Charmin Regular Roll bath tissue
If you like Charmin Sensitive, then you'll love Charmin Ultra Gentle toilet paper
The Best Toilet Paper Brand
In most cases, we found that Charmin was significantly better than Cottonelle toilet paper. Unless you are specifically seeking out a strong and durable toilet paper, Charmin is our recommendation. Charmin Ultra Soft and Ultra Gentle performed great in our tests, thus giving Charmin the nod as the best toilet paper brand.
Final Thoughts
The average American uses nearly 21,000 sheets of toilet paper a year. Make sure that you're buying the best! How do you decide what toilet paper is right for you? Consider the following factors:
Roll size: do you have a cap on how giant the roll can be to store or fit in your dispenser?
Pipe performance: do you have septic or other flushability concerns that need toilet paper that disintegrates down to a certain level?
Ply: What are your ply needs? 1, 2, 3? This is how many layers of paper there are to a sheet and contribute to density and strength.
Perforation: do you need easy-tear? You may have to test this but if you are potty training or have a family with weak hands, you may cut down on waste by having easy tear options.
Both of our test groups, Charmin and Cottonelle, provide paper that meets all of the above criteria through their different offerings.
Based on our testing, the overall brand winner is Charmin for their superior comfort and absorption. The next time you make a run (or have the runs), think through the checkpoints for what's going to meet your needs.
Is it absorbent?
Is it strong?
Is it comfortable?
Aside from being as pleasant as possible, these three factors directly reflect the economy of your purchase as well! Because this is something you do every day, make the right choice… you'll be glad you did.
Charmin Ultra Soft Toilet Paper
Pack contains 24 Rolls (338 sheets per roll) of Charmin Ultra Soft Family Mega Roll toilet paper
1 Charmin Family Mega Roll = 5+ Regular Rolls based on number of sheets in Charmin Regular Roll bath tissue
Charmin's softest 2-ply toilet paper ever made
Sale
Charmin Ultra Gentle Toilet Paper
Customer receives 18 Rolls (286 sheets per roll) of Charmin Ultra Gentle Toilet Paper
1 Charmin Mega Roll = 4 Regular Rolls based on number of sheets in Charmin Regular Roll bath tissue
If you like Charmin Sensitive, then you'll love Charmin Ultra Gentle toilet paper